Hey everybody! Today I am doing the 'Remember November Tag'! I was by Mandy and Sha from Book Princess Reviews, who also created this wonderful tag! Thank you so much for tagging me! Let's get started!
---
RULES
Pingback to the creator of the tag, @bookprincessreviews
Tag the person who tagged you
Find an answer to match each prompt
Have fun!
---
Sadie Hawkins Day – First Saturday
A female character who takes her fate in her own hands.
Literally the only character I could think of was Merida.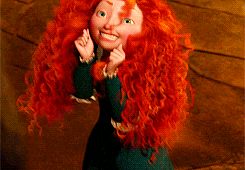 ---
Guy Fawkes Night – November 5
A plot that was stopped at the last minute.
'Leah on the Offbeat' kinda just ends. I loved it, but I wanted and expected more.
---
Saxophone Day – November 6
A character with an uncommon hobby.
In 'The Raven Boys', Gansey is obsessed with finding the Welsh king, Glendower. It goes from being a hobby to basically being his whole life.
---
World Kindness Day – November 13
A villain who is changed by kindness.
Mr. Darcy is basically a villain (mainly he's a jerk) at the beginning of 'Pride and Prejudice', but really he's an adorable goofball who cares about his friends and family.
---
Use Less Stuff Day – November 18
A character who gives up something in their life (i.e. a dream, a possession)
If you've read 'The Gift of the Magi' you'll know why I chose this as my answer. It's a fantastic story.
---
Start Your Own Country Day – November 22
A book with its own land / world.
Leigh Bardugo knows how to create a world doesn't she? I would love to visit Ketterdam.
---
I tag:
You guys don't have to do this, but I'd love to see your answers if you do.
---
That was the 'Remember November Tag'! Do you agree with any of my answers? Let me know!